GUSD Sports reminder: GHS Varsity Football Tomorrow at 7:00 PM Harbison Field Globe Tigers VS Highland Prep you can also catch the action live on NFHS Sports network Admission for all home games is $5 Adults, $3 Students, 5 and under free.
It's More Than a Meal Application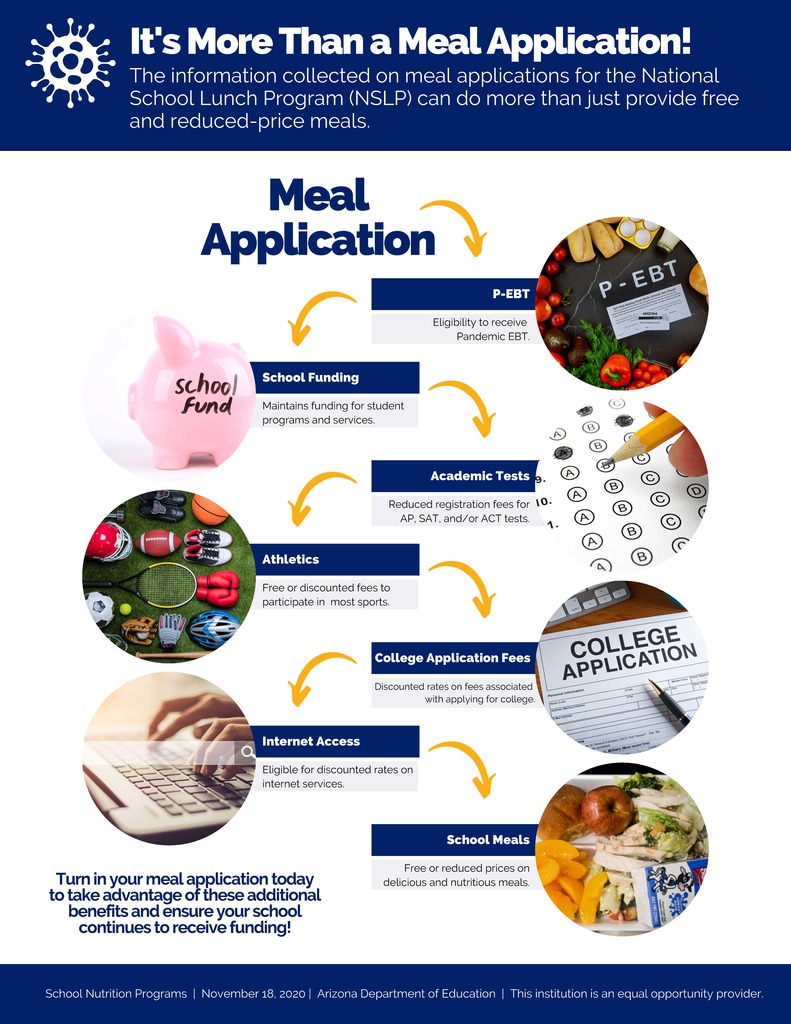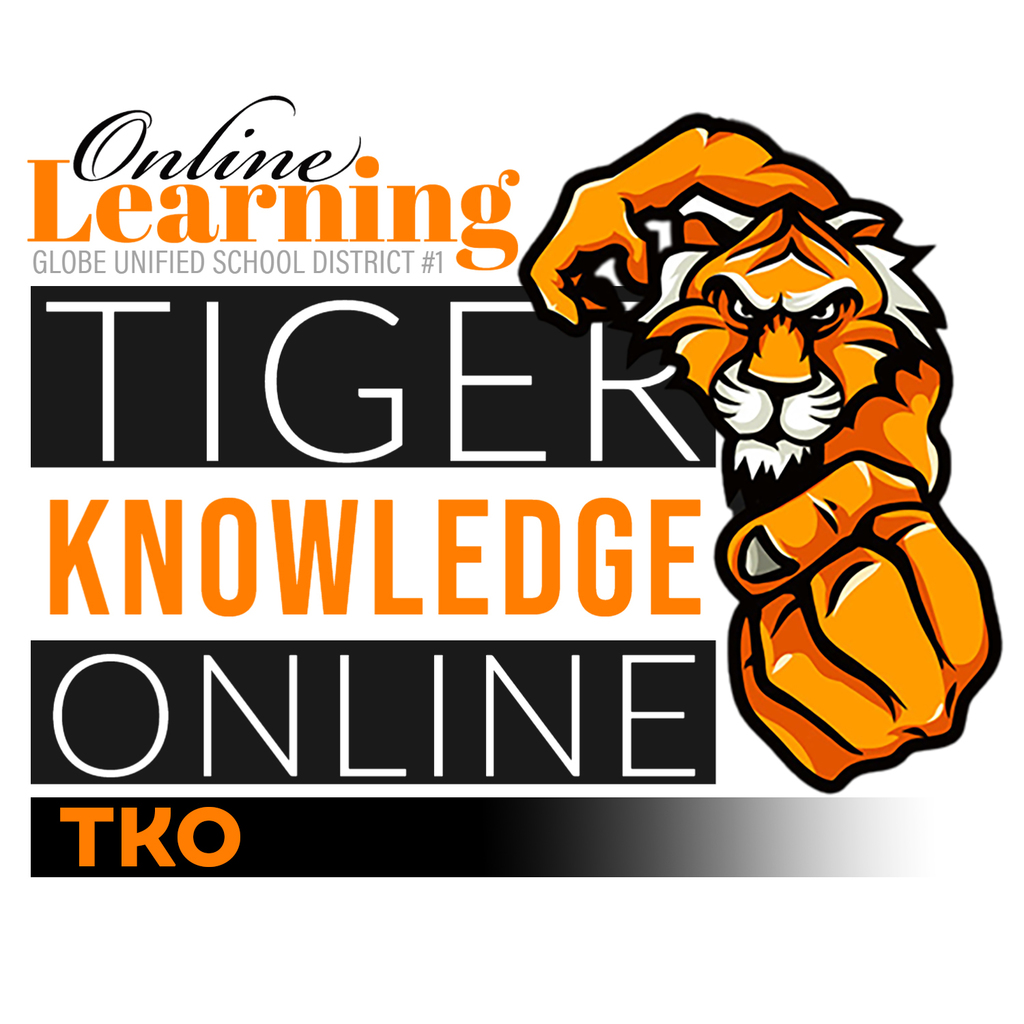 The Globe Unified School District Technology department will be collecting Chromebooks, power adaptors, hotspots and cases in the Copper Rim Elementary School Music Room tomorrow (Tuesday, May 18) from 8:00 A.M. – 12:00 P.M. Please make sure you have your completed GUSD Chromebook return form. If you do not have this form, please refer to the GUSD website or FB page for dates/times and a link to this form. If you cannot make the date scheduled, refer to our website, FB or your Chromebooks for other return dates and times. If you are unable to return your items and any of these dates and times, please call the IT Department at 928-402-6069 to schedule a date/time.
Hello from your 2020-2021 HDMS Student Council, To say this last school year was crazy would be an understatement. We've thought long and hard about how we can help make a positive difference and help out our struggling community. With that being said, this year's big fundraiser will help put money back into Globe/Miami/San Carlos. We're going to donate ALL the proceeds from our fundraiser back to a worthy and helpful business or organization. To do that, we need your help! Please, click on the link, browse the catalog, and buy something delicious for yourself or someone you love! You'll not only be helping yourself out, but also people in need in our community. Also, please share with your friends, family, casual acquaintances, or even complete strangers! We need all the help we can get! Thank you for all you do!! Gratefully, Your 2020-2021 HDMS Student Council Link to online fundraiser:
https://seller.clubschoicefundraising.com/Home/SchoolPage/HIGH92
Spring 2021 Bus Schedules 03/15/2021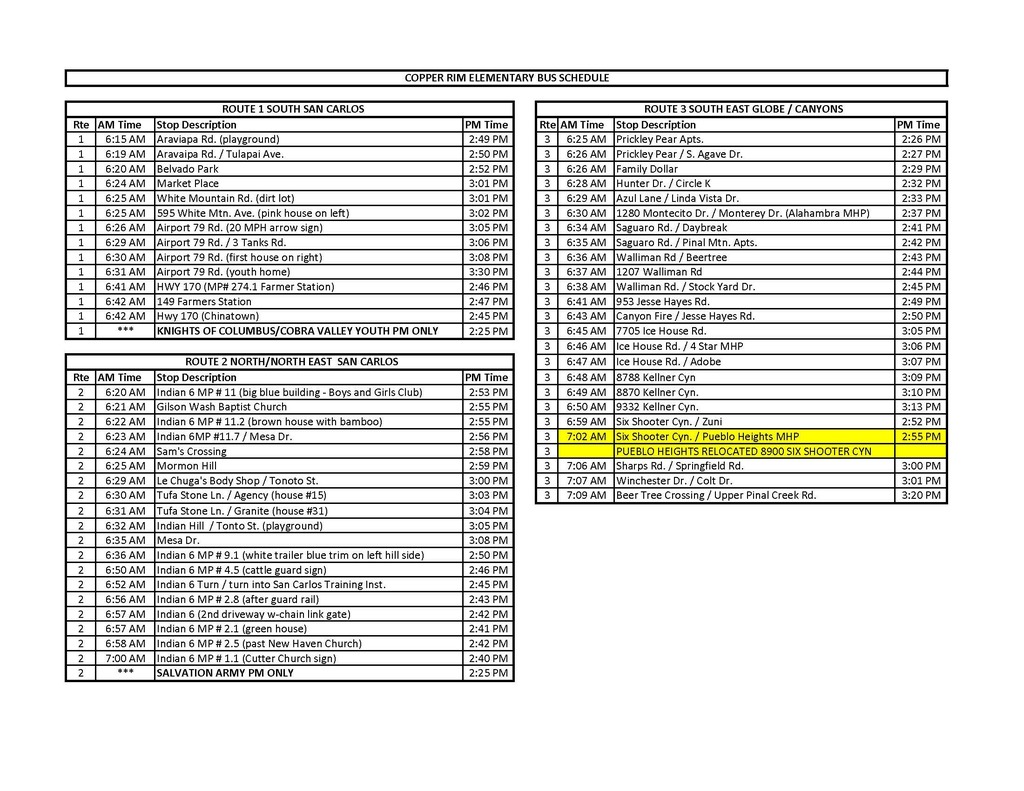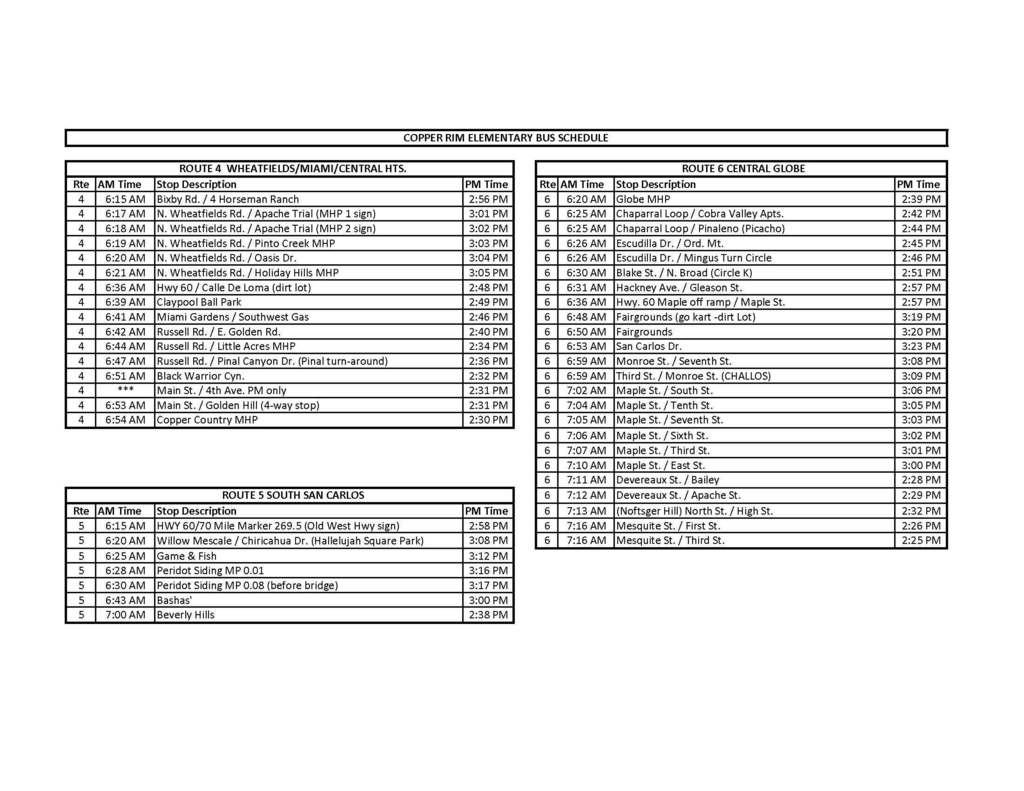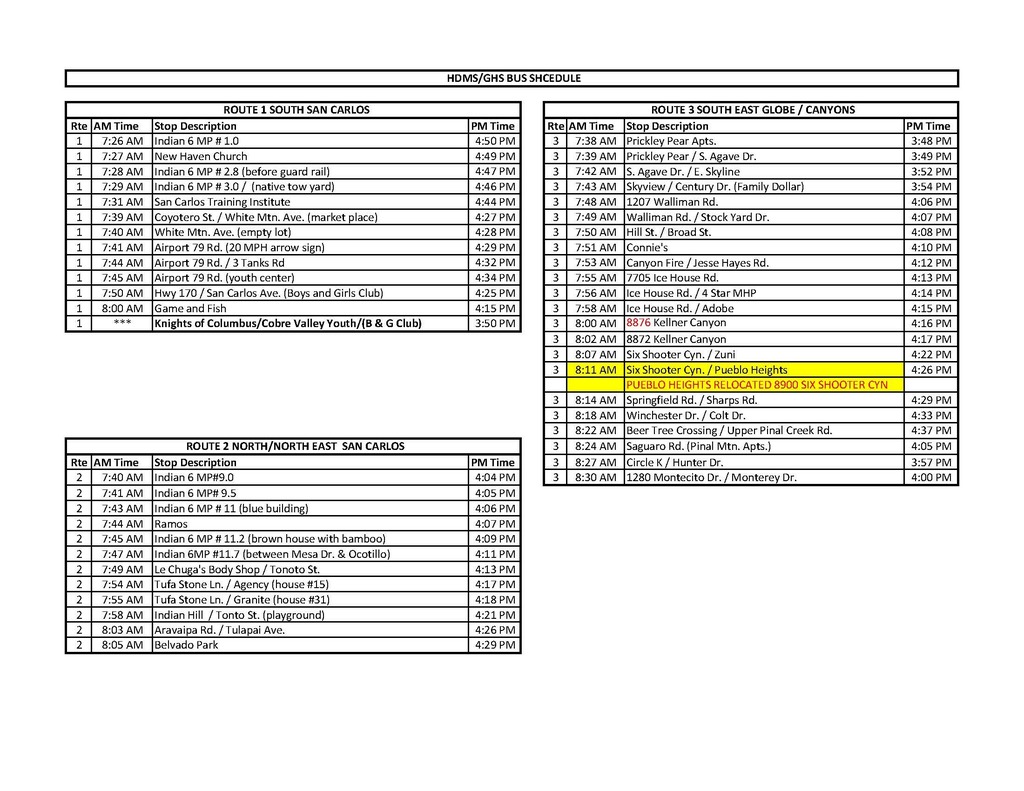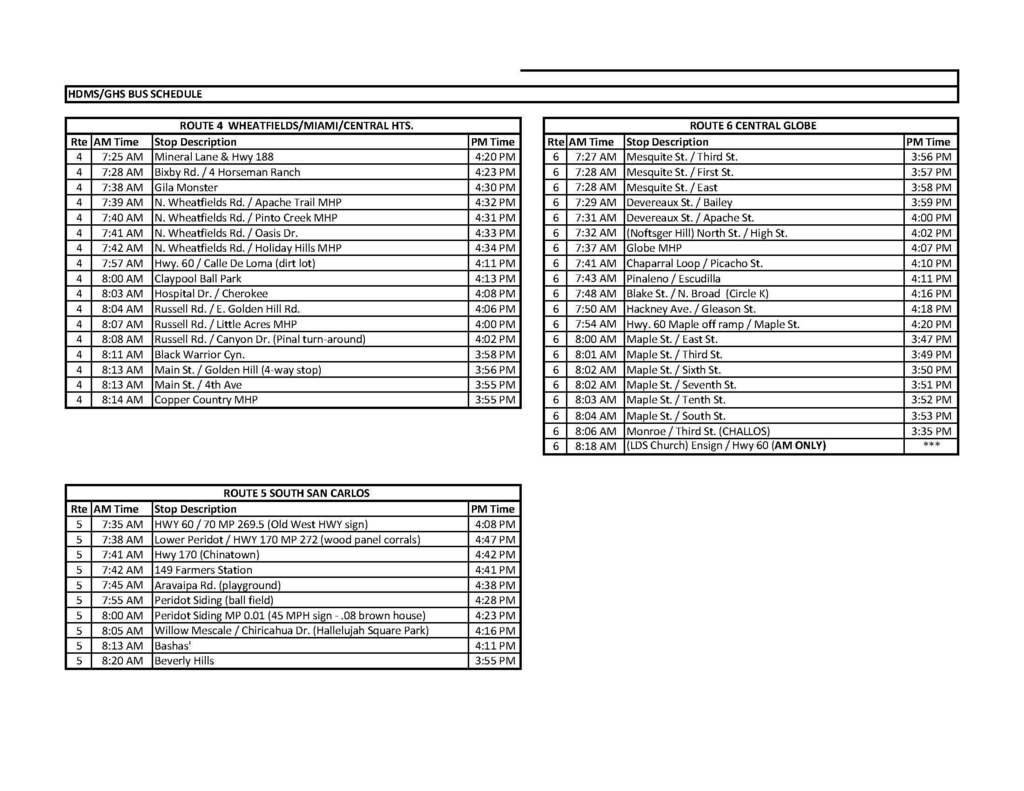 Important Notice from City of Globe Mayor Al Gameros: Just received word from the Gila County Health Department that AZDHS has given them permission to now open up this weekends mass vaccination to all Gila county residents.  You DO NOT have to go on the website to book an appointment. Just call 928-402-8888 up until 5 pm today.

REMINDER: Please fill out the survey to let us know your preference for learning option during the 3rd trimester. The survey is on our website, on facebook and at this link:
https://form.jotform.com/210396340975157
Go TIGERS!

Please fill out this survey to let us know your preference for third trimester learning options. We are considering moving towards offering in-person and online options while maintaining a focus on student and staff safety. Please fill out one survey for each student. The survey can e found on our website, on facebook or at this link:
https://form.jotform.com/210396340975157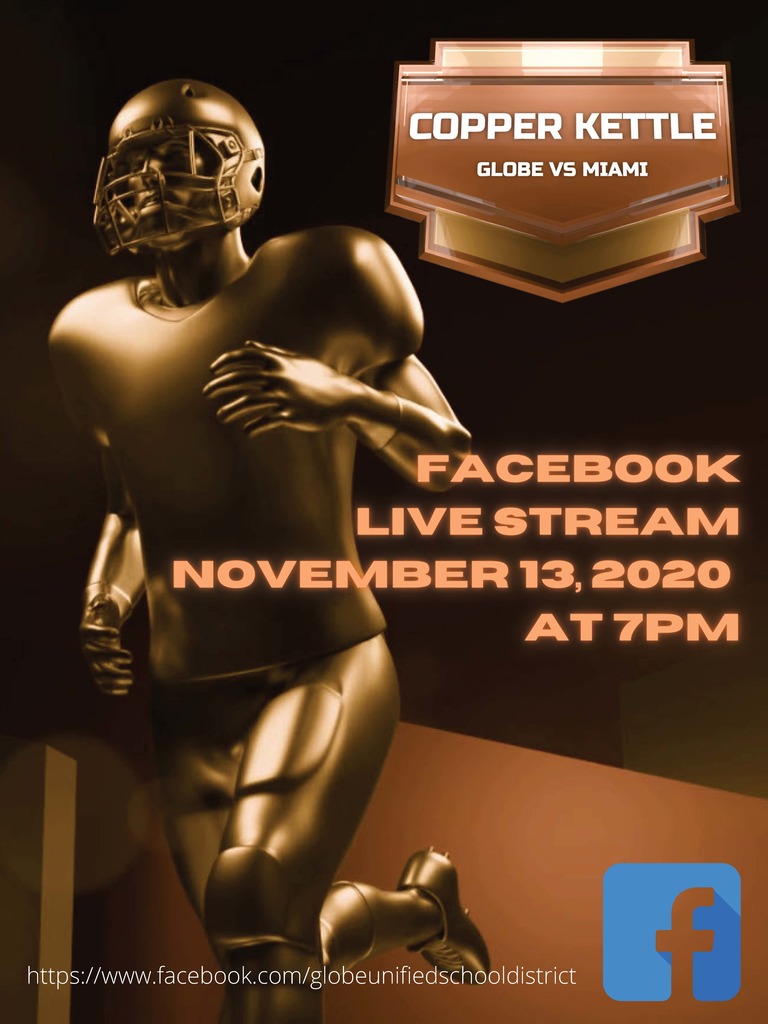 Public Service Announcement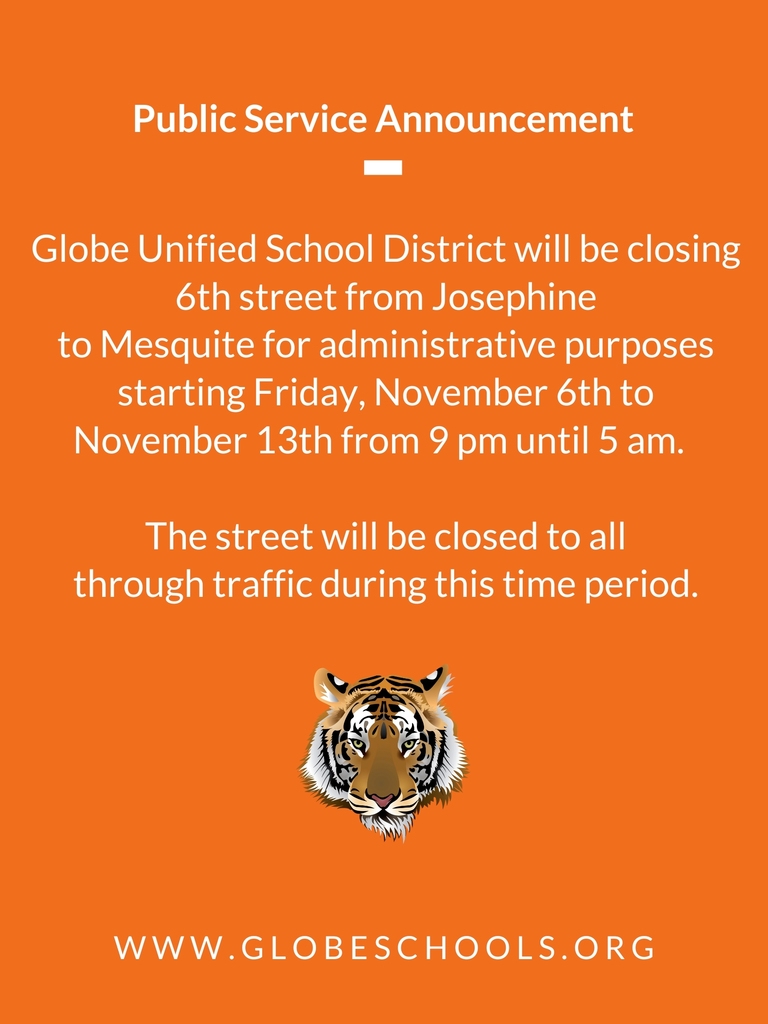 STRUGGLING WITH ONLINE LEARNING? Have a question but not sure who to ask? Need help getting back on track? VIRTUAL TIGER CHECK-IN NOVEMBER 2ND - 14TH, 2020.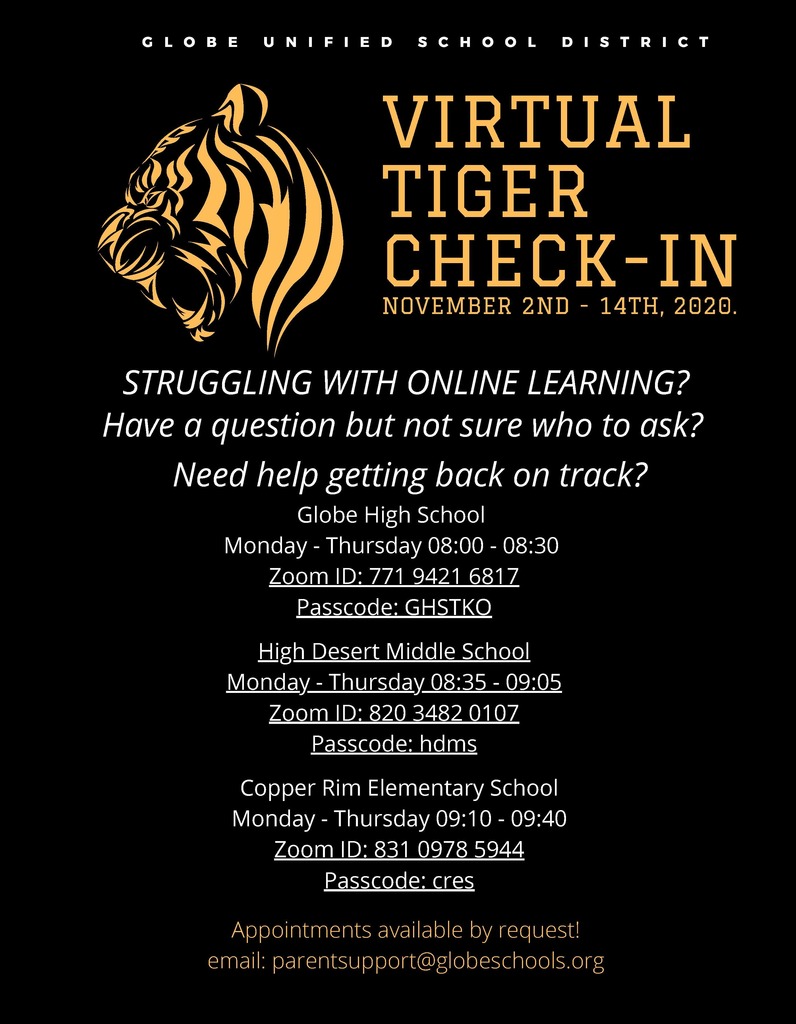 Due to the location of our messaging service, calls from Globe School District may show up as "Little Rock, Arkansas" on caller ID. We apologize for this confusion.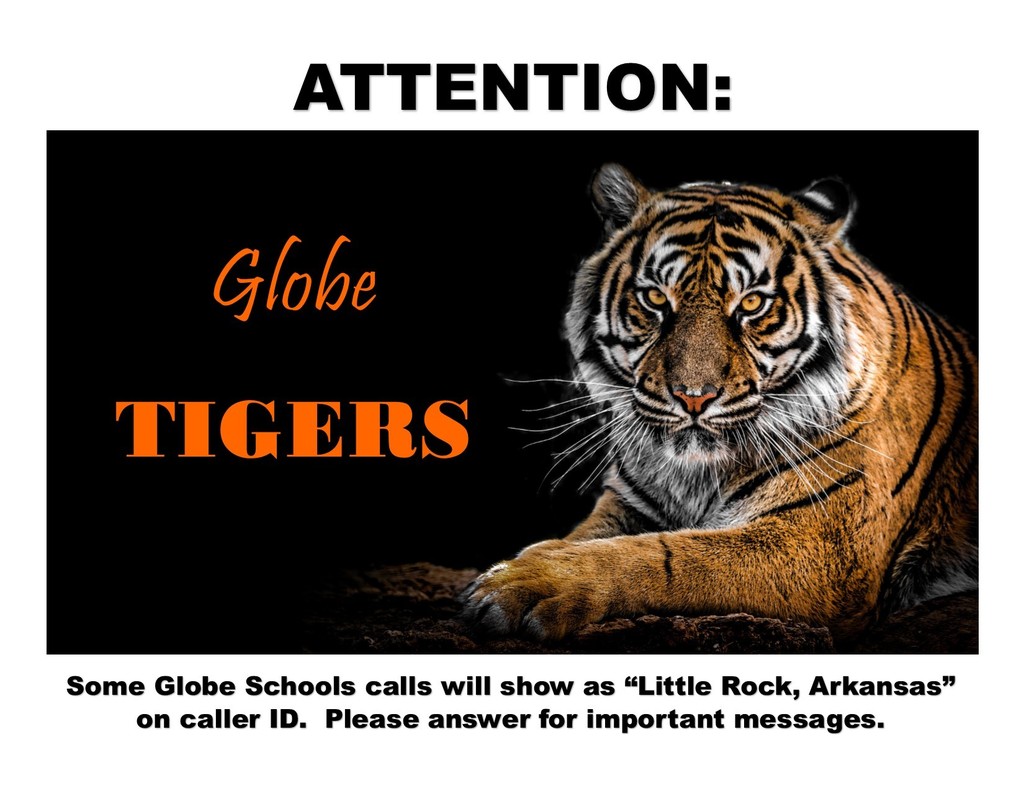 COVID 19 testing October 9 & 16, 2020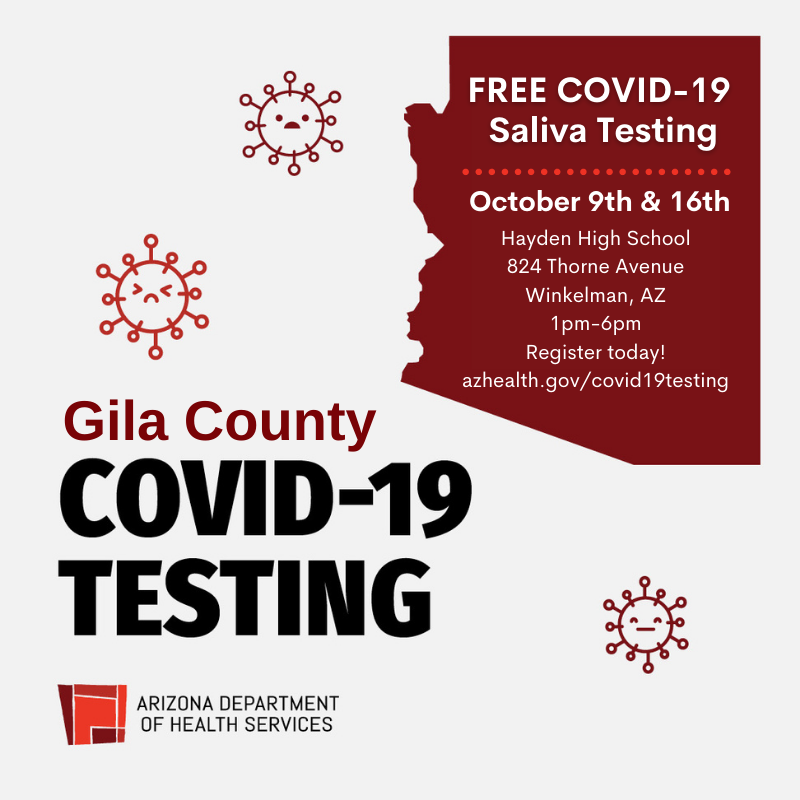 Online web portal for purchasing High School sports tickets is now live. All tickets will be sold online via Ticket Leap website. Tickets are $5 each. There will be no ticket sales at the door. All spectators will have to present printed/electronic ticket at the door for admission. Tickets go on sale today, 9/30, and will be available for purchase until Tuesday, October 6 at 7 pm. Direct access to the web page can be found at the link below, or on the main webpage of both the Globe District website and Globe High School page called H.S. SPORTS TICKETS.
https://www.globeschools.org/o/gusd/page/h-s-sports-tickets

Today is Legendary Teacher Day. We encourage you to thank a legendary teacher in your life. Our Governing Board passed a resolution to recognize legendary teachers as a District noting the profound impact that teachers have on our lives.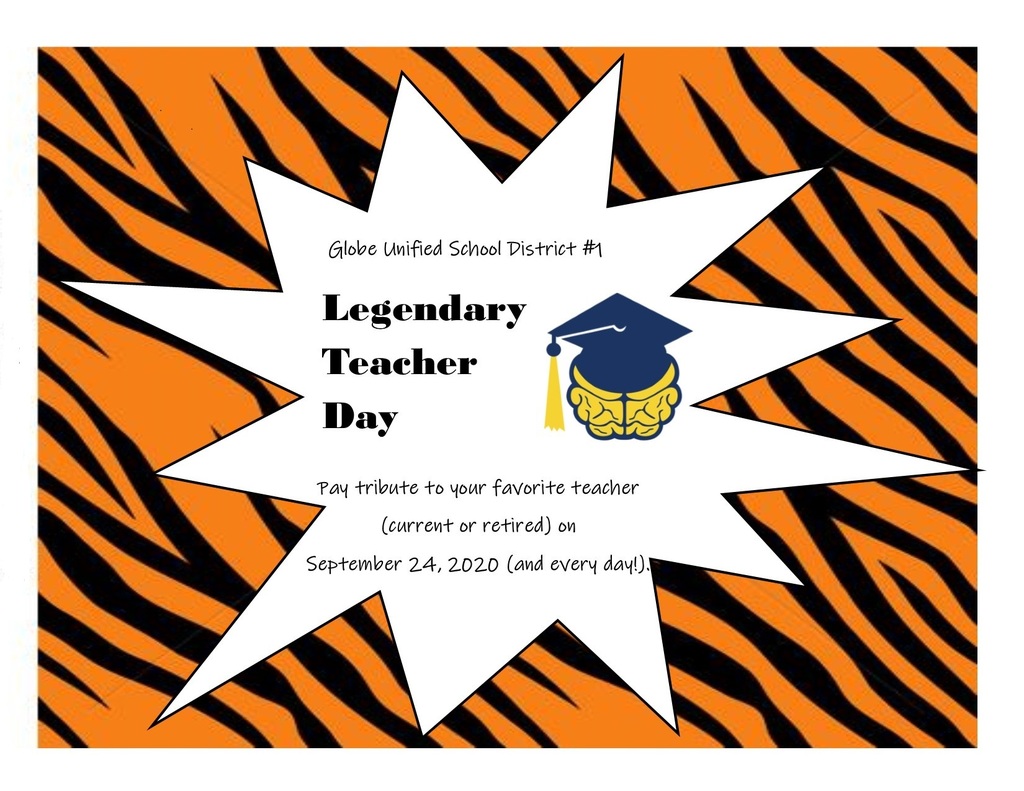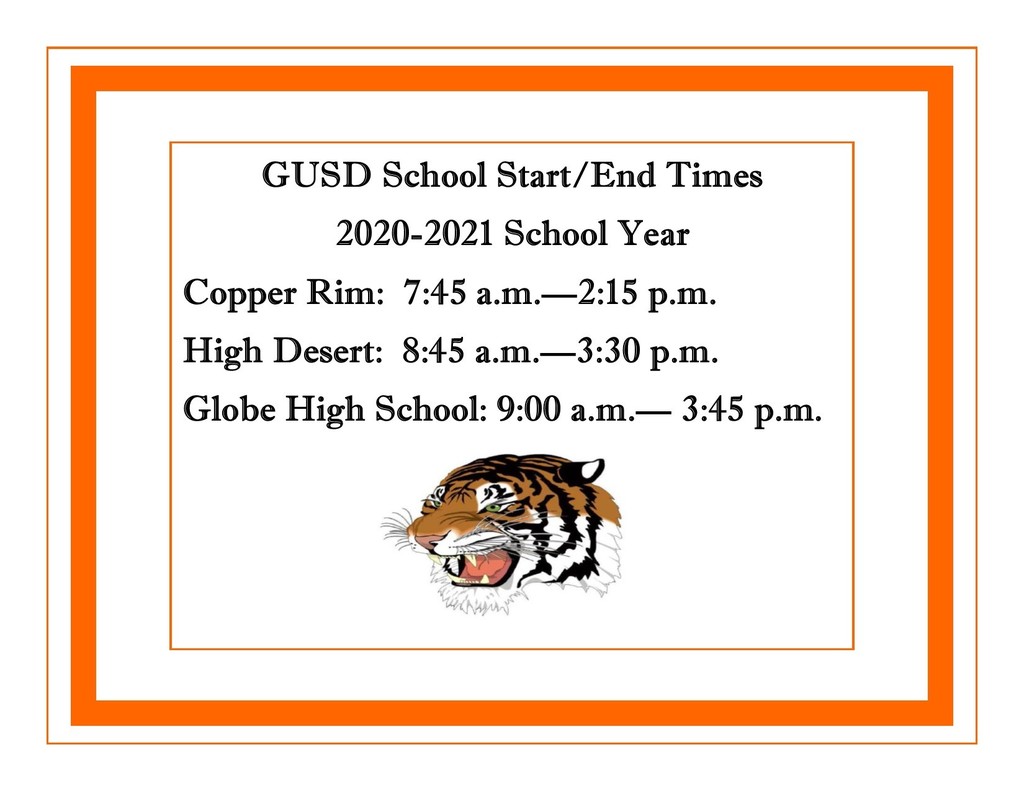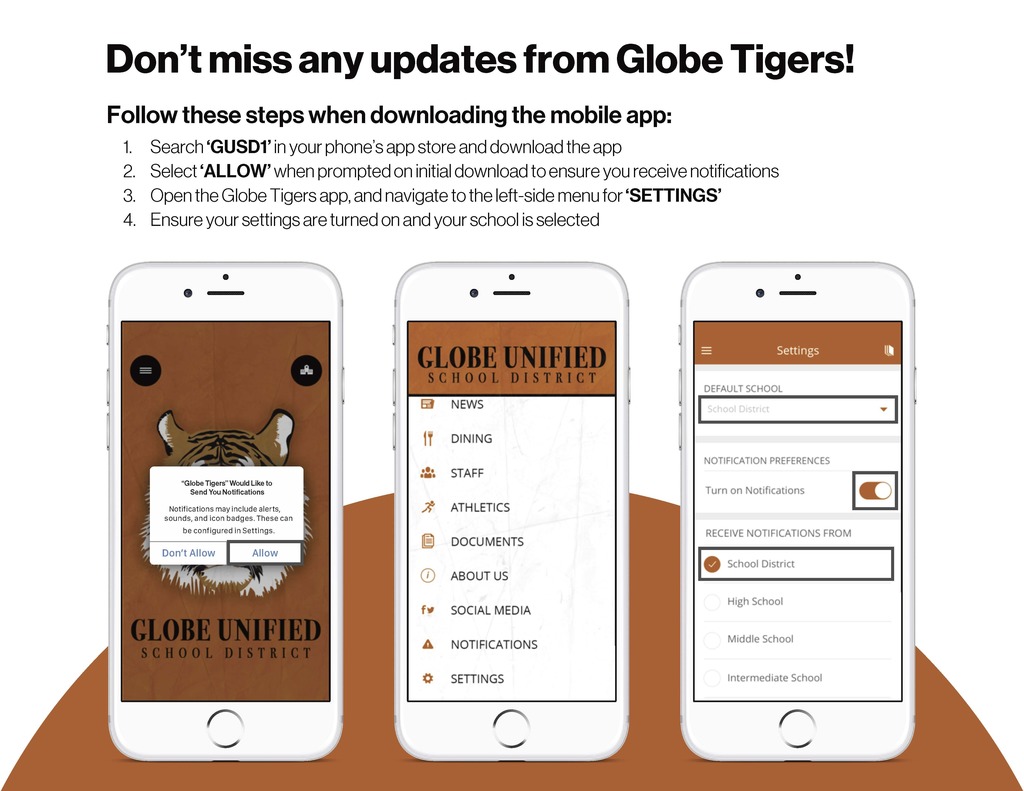 Beginning Monday September 14, 2020 Parents, Guardians, and GUSD Students can now call K12itc support services for technical help. See flyer for details.