GUSD Online Registration Portal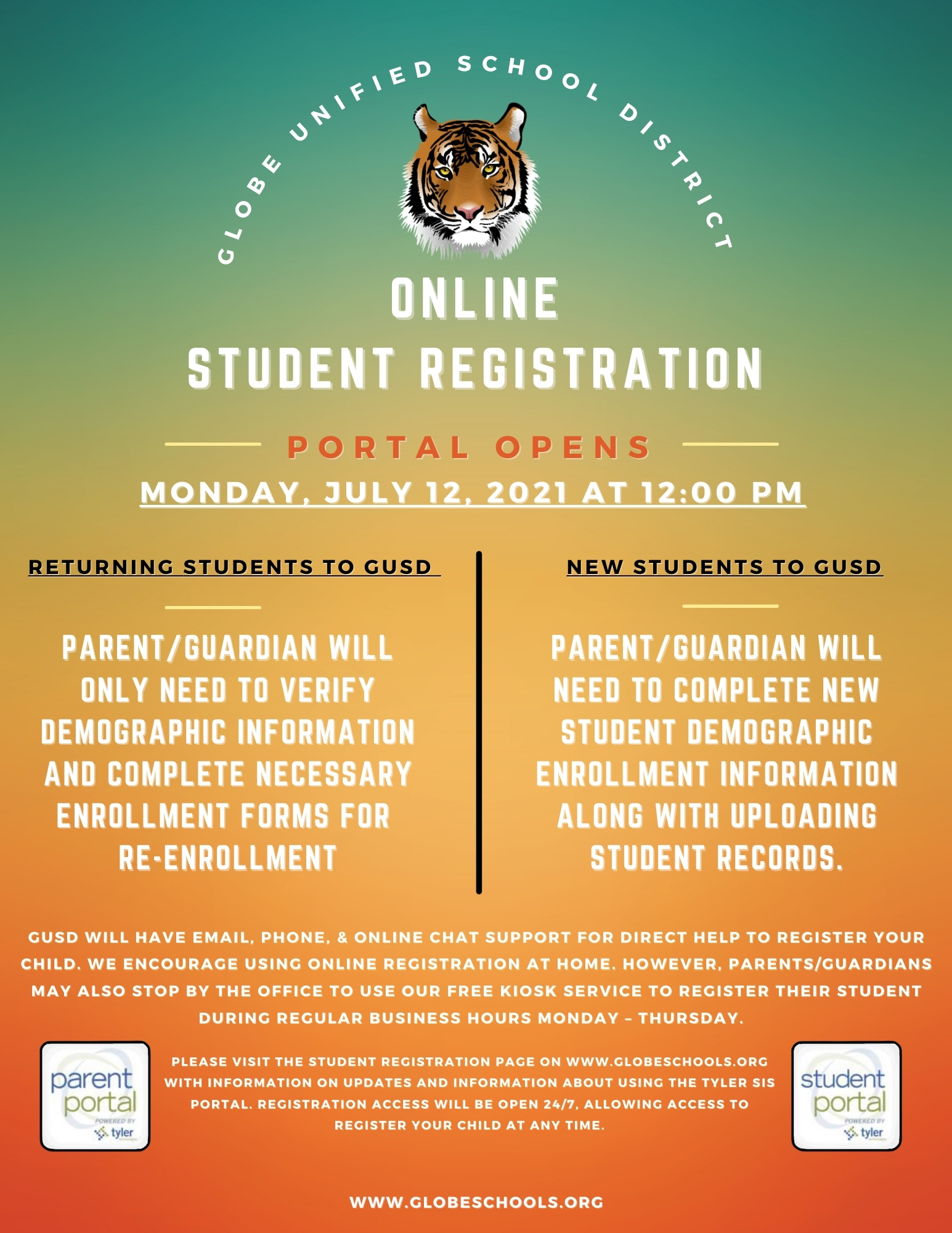 GUSD online registration system is an easy and convenient way for you to provide the information we need to get your student(s) registered for the 2021-2022 school year.
The 2021-2022 online registration portal will open on Monday July 12, 2021 for all grade levels. The registration portal will be open for both new and returning students to Globe Unified School District.
Our new School Information System (Tyler SIS) is making the finishing touches on moving everything to live status in the new database. As Parent/guardian when enter the new registration portal, Tyler SIS will pull all student demographic information for for your review to verify for the returning student(s). If everything looks correct, You will not need to make any changes and can proceed with the remaining forms for completion. If updates need to be done, this will give you the opportunity to update the necessary changes.
Students who have never attended GUSD will be a different case. The parent/guardian will be required to provide all the demographic information needed to complete the student registration.
New students to the district will need to upload certain forms to the registration system. However, if the parent/guardian cannot complete this process, the parent/guardian can bring the document(s) to the office. Please understand, student registration cannot be completed until all the required documents have been submitted. This does not prevent the student from being placed in a class or given a class schedule.
The office will already have hard copy forms of student documents on file like birth certificates, immunization records, or court documents on file from the prior enrollment. However, you will have the opportunity to upload any new documents during enrollment.
Student registration is dependent on a valid email for enrollment. Providing we have a valid email on file for the student, the parent/guardian will get an email on Monday, July 12, 2021, with instructions to begin student enrollment.
If a parent/guardian does not get an email, this means
The email we have on file is not valid

The parent/guardian never provided an email to the office upon the initial student enrollment with GUSD.
In this case, the parent/guardian will need to contact the school office and provide a valid email. The office staff can then process an email notification to the parent/guardian to complete the student enrollment.
If you have any questions please contact the campus your child will be attending.
Copper Rim Elementary School
928-402-5800
High Desert Middle School
928-402-5900
Globe High School
928-402-6100