What is Dual Language Immersion?
The dual language immersion program is a program of choice designed for high academic achievement in two languages.
Program Goals
Students will become bilingual, biliterate, reach high academic achievement and develop sociocultural competence.
Program Model
At the first-grade level, students receive 50% of instruction in English and 50% in Spanish.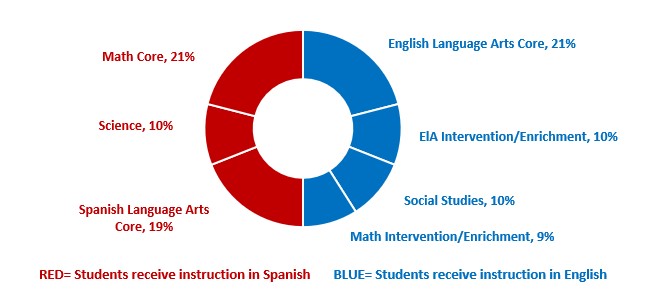 Benefits
Studies show immersion students:
Reach a high level of proficiency in a new language at no cost to their English language development

Perform as well as or better than non-immersion students on assessments of English and math administered in English.

Improve performance on task that call for increased attention, divergent thinking, pattern recognition, memory, critical thinking, and problem-solving.

Improve executive function of the brain.

Are better prepared for the global community and job markets where a second language is an asset.

Develop metalinguistic skills (linguistics representation + executive control).