EDIT MAIN
Welcome to the Globe Uni ed School District registration page for checking out a technology chromebook or other technology related devices for an enrolled student.
We want the process of checking out a chromebook as easy as possible. However, the parent/guardian will need to complete some required steps in order to take district property off campus.
PLEASE NOTE: We are currently limited in the quantity of Chromebooks available to students and are working on increasing this number. We ask that you do not take a GUSD computer if you have a computer at home. We are trying to maximize our resources to help as many students/families as possible.
Starting August 14, at High Desert MIddle School employees will be on hand from 8:00 AM to 6:00 PM to hand out Chromebooks. Family units (as designated by information in our school registration system) will be given one computer each until our additional supply of computers arrives (anticipated in September).
PLEASE CHECK BACK ON THIS PAGE FOR MORE DETAILS REGARDING THE NEXT DATE FOR CHROMEBOOK DISBURSEMENT AFTER AUGUST 14, 2020
Check out process for Chromebook
Every student who checks out a Chromebook must read and sign the registration packet. The registration packet is formatted for both download PDF and online submission. Completing the online submission will record your name for verification of completion. The online registration can be completed in many different ways from a desktop computer, laptop, tablet, or mobile phone. To complete the online registration please click the left link below.
IF POSSIBLE WE HIGHLY ENCOURAGE COMPLETING THE ONLINE REGISTRATION BEFORE FRIDAY AUGUST 14, 2020 TO HELP SPEED OF THE PROCESS OF CHECKING OUT YOUR CHROMEBOOK.
PLEASE NOTE DUE TO LIMITED CHROMEBOOKS WE CAN ONLY ISSUE (1) CHROMEBOOK PER FAMILY. AS MORE BECOME AVAILABLE FAMILIES THAT HAVE A NEED FOR MORE THAN ONE CHROMEBOOK WILL BE NOTIFIED.
IF YOU HAVE THE NEED FOR A MOBILE HOTSPOT PLEASE COMPLETE THE
HOT SPOT REGISTRATION FORM ON THE RIGHT SIDE
| | | |
| --- | --- | --- |
| | | |
| | Use this portal only if you are paying full enrollment insurance policy $25.00 | |
Every Chromebook must have insurance coverage policy assigned to it prior to it leaving campus property.
Insurance can be purchased on the day you pick up your Chromebook. Please take note of the following fee amounts below.
Every Chromebook assigned to a student in the category of FREE, REDUCED, OR STANDARD ENROLLMENT will be required to purchase an Insurance policy at the time the Chromebook is picked up by the student.
Please note the Chromebook can not leave school property unless the Insurance policy has been paid for. The insurance coverage is provided by SECURRANTY. Below are the outlined insurance fees for the 2020-2021 school year.
Globe USD will take care of processing your policy within the 72 hours of
confirmed payment.
Students who have a CIB number will be covered under JOM funds.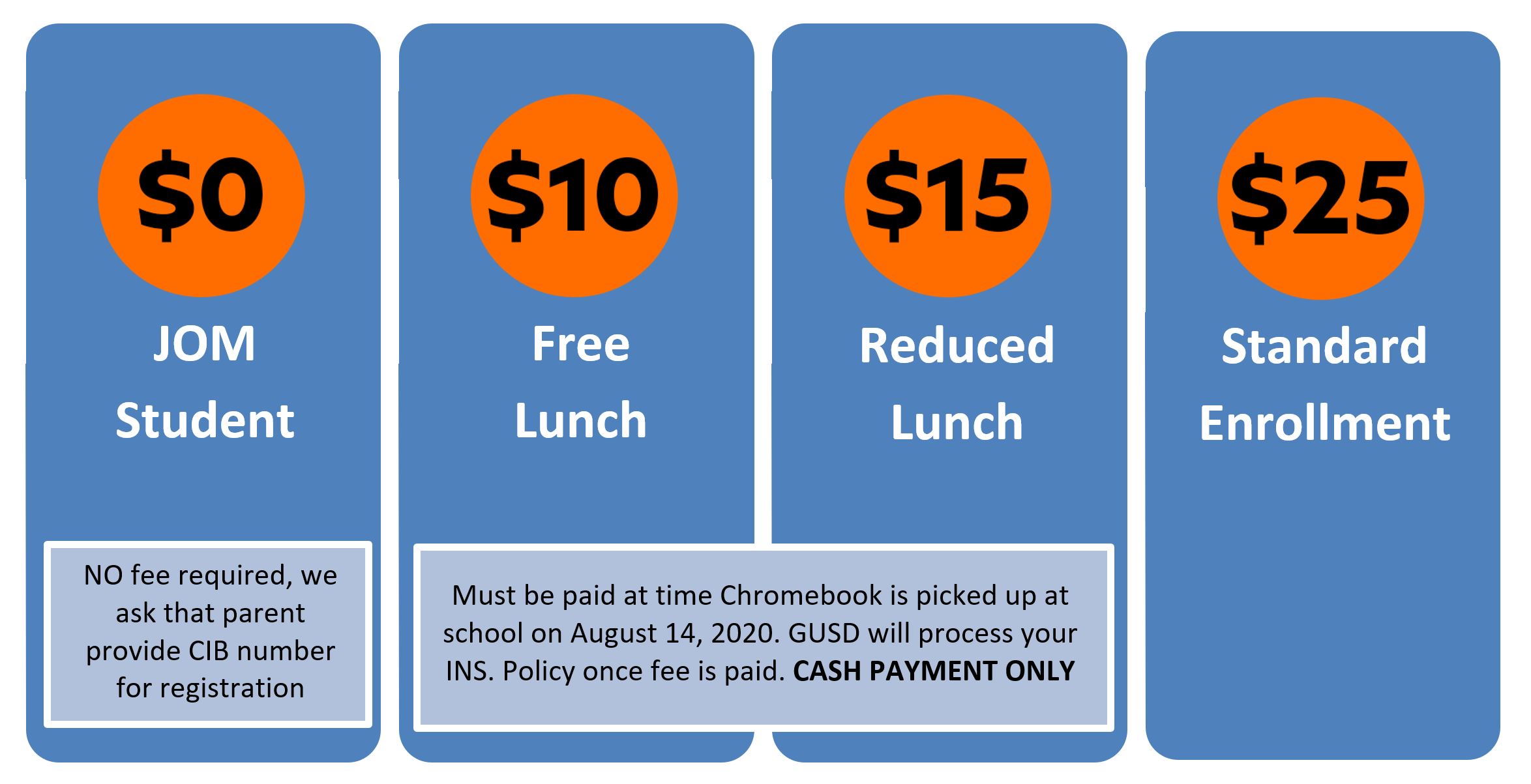 Insurance is provided by

The registration documentation will provide more insurance details