SchoolsPLP is an online educational ecosystem where all aspects of eLearning are inter-connected. The company has been providing digital curriculum for more than 20 years.
1998 – First started providing digital curriculum to schools
2007 – First started operating charter schools within Arizona.
2009 – First started development of our Learning Management System, Connector
2017 – Completed the acquisition of two publishers, one in Florida and another in California
2018 – Rebranded to SchoolsPLP
The platform combines an effective classroom management tool and a customizable learning management system with online curriculum. The company began as a Learning Management System (LMS), then added curriculum content from Lincoln Learning, Bright Thinker and eDynamic Learning and rebranded as SchoolsPLP.
SchoolPLP's team of more than 200 employees has taught thousands of students using state-of-the-art curriculum delivered within the best learning management system. The organization consists of many former educators who understand the need to use digital curriculum to satisfy the passion for today's learners. The staff's experience and accredited curriculum makes it possible to be responsive to student needs and allows students to work at their own pace.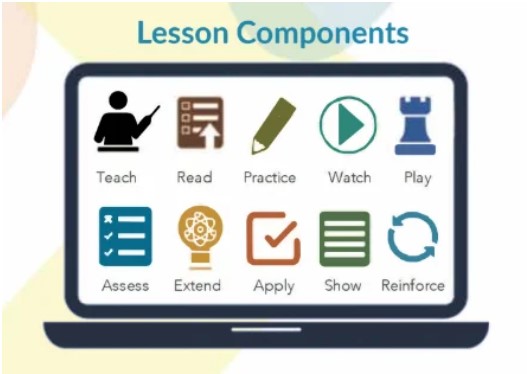 Each lesson contains a variety of elements of instruction to support students in learning and engagement.
Each unit is strategically "chunked" in order for the learning to develop mastery. Online learning allows for flexible pacing as well, so students may have the individualized pacing to meet their needs. To get more information about the curriculum, watch this video that goes into the details of how the curriculum works.

VIDEO LINK
SCHOOLSPLP-ONLINE INSTRUCTION
Teacher of Record
Working with our learning team and our staff through this process, we do not see a way to have our teachers teach all day in the classroom and still provide online classes for other students. Our teachers will be using blended learning strategies through Google Classroom to allow them to transition if needed to off-site as an entire group. The Google Classroom would also help if a student is out for a few days but it would not replace the classroom experience. As a small district, we do not have extra staff members at this point who would be available to only be online teachers. Our most recent survey results show more than 80% of our families were planning to send their children back to the buildings for face-to-face instruction.
SchoolsPLP Teacher
Each teacher has extensive classroom experience and is an expert at the SchoolsPLP Learning Management System. The implementation approach includes the development of a strong partnership to support Globe USD needs in the achievement of its program and student achievement objectives.
How instructional needs will be determined and documented
SchoolsPLP provides multiple types of formal and informal, formative and summative, assessments. Students will take a Pre-Test to ensure mastery of each skill. The Pre-Test is created randomly and real-time to ensure the student understands the material. The Pre-Test will ask five questions per skill/topic and if the student demonstrates mastery of four of the five questions, this skill is removed from their required list of assignments. This assessment allows a student to demonstrate prior understanding of the topic and move through the curriculum faster.
If a student is entering high school and we are not confident in the students ELA and Math skills, we will assign a High School Readiness Assessment to determine the students' instructional level and areas of weakness. If further intervention is necessary, an entire semester can be provided to better prepare student(s) for any grade.
Method to determine competency and award credit
Each student's learning path can be personalized to meet his or her individual learning needs. Students can work at their own pace to complete work for initial credit, accelerate their learning, or recover credits and grades at home. Our content is proven to increase student achievement and on-time graduation and includes the rigor and engagement to ensure students graduate with necessary skills needed for college and career.
Instructional strategies include:
Activating students' prior knowledge

Establishing a clear lesson purpose, goals, and expectations

Providing clear instruction, including examples and modeling

Providing opportunities for practice with varying levels of scaffolded support

Conducting frequent checks for understanding with appropriate feedback

Incorporating reviews spread out over time

Providing metacognitive and self-efficacy skills and practice
The interactive, multimodal, learning environment helps students reengage and get on track for graduation. Focusing on instruction that identifies knowledge gaps and personalizes the learning experience, SchoolsPLP provides a flexible learning solution with prescriptive assessments that allow students to spend more time on what they need and less time on content already mastered.
The prescriptive assessment measures students' mastery of core concepts of the standards. The system automatically prescribes a specific learning path to address the identified skill gaps. Students are assigned relevant, student-specific course content creating a specific learning path based on each student's pre-test results. The result is a personalized learning plan based on the student's specific needs.
Attendance and participation requirements
Daily Activity automatically timestamps each login session

In addition, students are required to access their courses regularly. To ensure regular access, an Globe USD staff member or Teacher will monitor the "Disengaged" status for each student. (Partly Disengaged means the student did not access at least one course within the designated period of time, and Fully Disengaged means the student did not access all of their assigned courses within that period.) If necessary, the Globe USD staff member or Teacher will contact the family to find out how we can help the student get back on track.
Method for progress monitoring
Real-time data allows students to track their progress making it easier to meet daily instructional goals and stay on track to complete their course. Having this real time data available helps students take accountability for the individualized coursework. SchoolsPLP will use the Globe USD Grading Scale.
Client Services
The Client Services team ensures that Globe USD implements SchoolsPLP with fidelity and best practices to maximize student results. Client Services will provide district, school and student data and/or reports to monitor effectiveness and inform program improvements.
SchoolsPLP will provide technical support to assist with implementation and user support needs and to ensure prompt issue resolution. Support is provided via phone, email and synchronous meeting options.
Technical support is available from 7 a.m. to 6 p.m. EST. The team of support staff utilizes real-time chat, e-mail, phone calls or text messages.
*SchoolsPLP will follow the Globe USD Schools grading scale which is not demonstrated in the above video.